UrbiGo experiences
From herbs and Cherry tomatoes to Pines and Bonsai!
Hello 👋 We know you're here to see authentic reviews from UrbiGo users. Therefore, this won't be one of those bragging company posts, intended only to sell a product or service. We gave our best to be as objective as possible, and base it solely on honest feedback given by our customers, to provide a realistic picture of what you can, and can not, expect from UrbiGo.
For starters, our goal is not to sell UrbiGo to anyone. But to those who really want/need it. 💚 So, before you continue reading, we believe it's important to point out two things:
UrbiGo is ideal for you if:
🌆 You live in the city
You love nature and new technologies 🌿👨‍💻 and want to always have fresh, organic bites in your apartment. 🙋‍♀ Or to boost your space with greenery, without buying artificial or potted plants that require a lot of care, light, watering and gardening skills (in short, plenty of your free time).
🎁 You're looking for that unique gift
For someone special. A gift that can't be bought in the local store, the one that not everyone has (yet). A gift that grows all year round (literally) and brings a smile to your face almost every day.💚
UrbiGo, probably, isn't a best choice for you if:
👨‍🌾 You have a farm, a large garden or a greenhouse,
Where you grow your vegetables, fruits, spices.
❌ You don't believe in the "smart home" concept
Thinking that smart devices will necessarily destroy the World and our intellect. If so, we are definitely not meant to be. 🙃
Now let's move on to what you're actually here for!
Today, more than 500 people successfully grow their favorite edible and decorative plants in the UrbiGo smart garden. Some purposefully bought UrbiGo for their apartment, while others received it as a gift. What is certain is that UrbiGo leaves a strong first impression and thrill.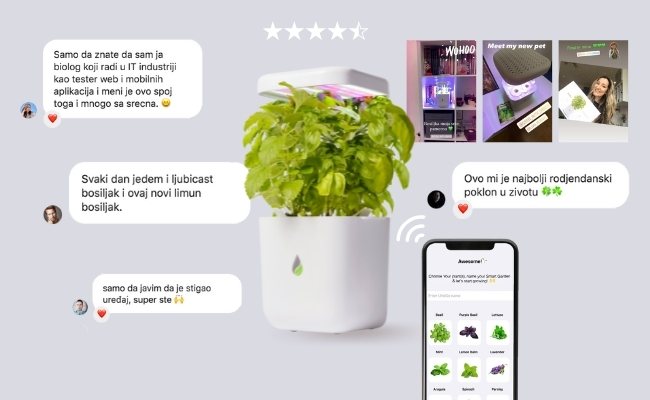 The plants you choose, grow from seed, in special capsules, which are sold in a set of 4 capsules.
In addition to the offered sets of capsules, you can also opt for an experimental set of capsules, with the goal of growing another plant of your choice. But more about that a bit later 😁
In the UrbiGo starter pack, you get four capsules with Basil Genovesse seeds 🌱 and for a reason. This aromatic basil is an ideal choice to start with, especially for those who are new to urban gardening. It grows quickly, has an intense smell and taste, and is ready for consumption (or transplantation) after only a month!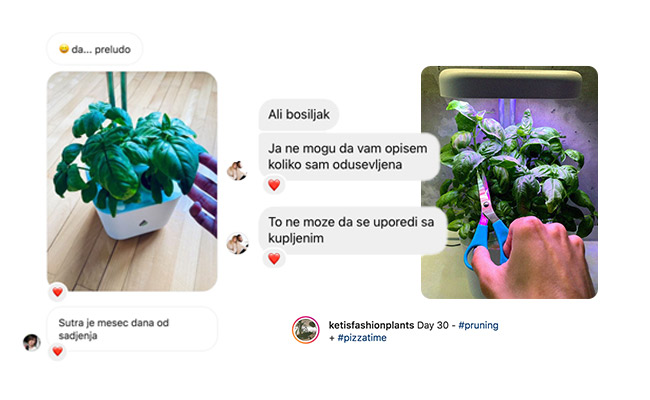 All capsules, including the Basil Genovese starter set, are in sync with the UrbiGo App, 📲 which guides you step-by-step through the growth cycle of your plants. Through the app, UrbiGo will notify you when it is "thirsty" 💧 and as your plants grow, it will teach you how to nurture ✂️ pollinate 🐝 and make the best use of / transplant them in the end.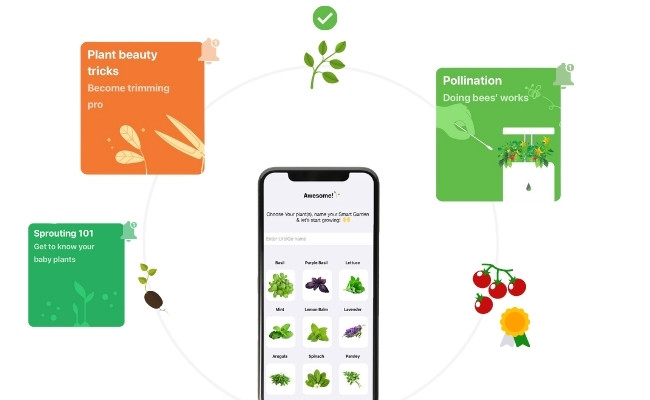 📲 And yeah, with the UrbiGo App, you can control the water, temperature and light in your garden, but also share your experience with others. App is there to make it easier for you to grow your favorite greens and provide useful information to really build this green thumb of yours.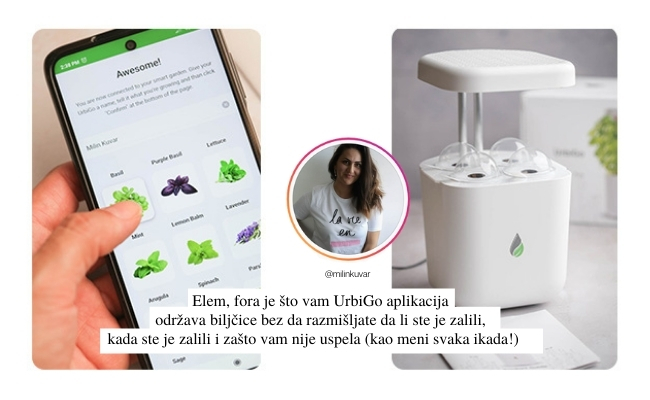 ✨ UrbiGo experiences with mini vegetables and fruits
Mini Cherry tomato capsules 🍅 are an absolute favorite among vegetables. You can expect 20-70 juicy fruits in one cycle (3 months), and the App will teach you how to nurture and pollinate your tomato!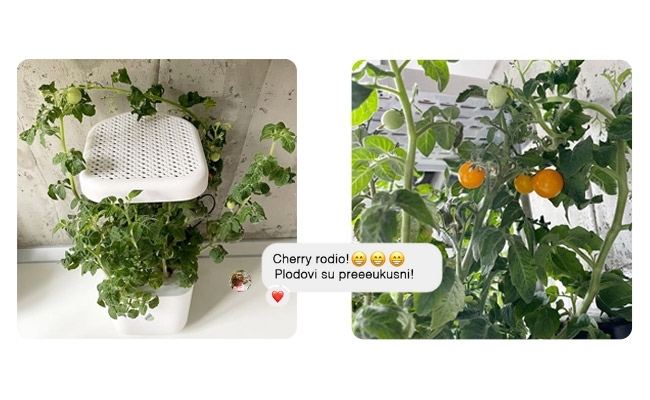 Chilli peppers 🌶️ arugula 🌱 and lettuce grow very quickly in UrbiGo. You can consume arugula and lettuce after a month. We recommend that you do not plant chilli pepper seeds together with other plants in UrbiGo, because it can 'make them spicy'.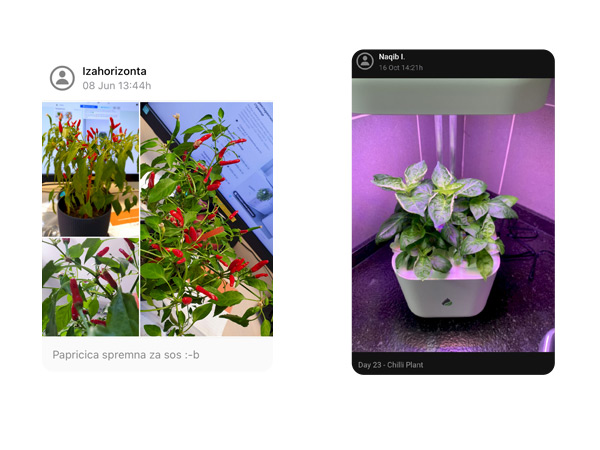 😮 UrbiGo experiences with experimental seeds
Experimental capsule set contains an all-in-one substrate, but comes without seeds, so that you can put your own.
Perhaps the most interesting plants that were planted were Adenium Bonsai and Pancic Spruce 🌲
Both plants, especially Spruce, are quite demanding, and until now it was almost impossible to grow them from seed, let alone at home. Although UrbiGo creates ideal conditions for the vast majority of plants, honestly, we did not count on Pancic's Omorica to like it this much 🙂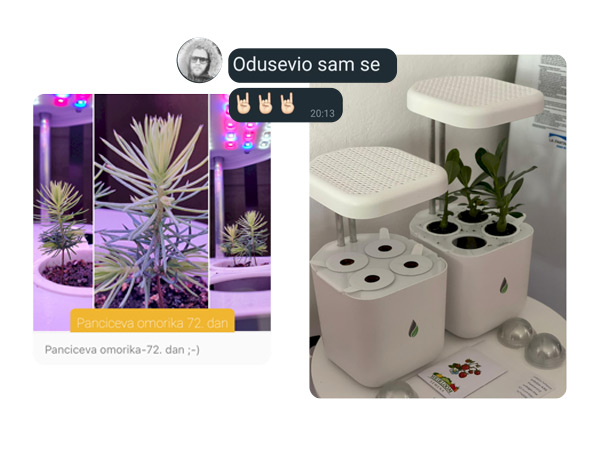 We are currently delivering experimental capsules at the request of users, but due to the growing demand, they will soon be available on our website.
Experimental UrbiGo capsules definitely awakened creativity among users and expanded the very own limits of the product. And for your experiment to be successful, our team is at your disposal for any kind of support and questions. ✌️
🤔 What happens when Nature takes its course?
In some situations, it happened that, on the surface of the substrate, velvety white mold appeared in the UrbiGo capsule or that the seeds simply did not sprout.
In the first case, it is a harmless fungus that lives naturally in the air. It's easy to remove it by hand, or with a plain cotton swab, in just a few steps - all you need to do is follow the instructions in the UrbiGo application.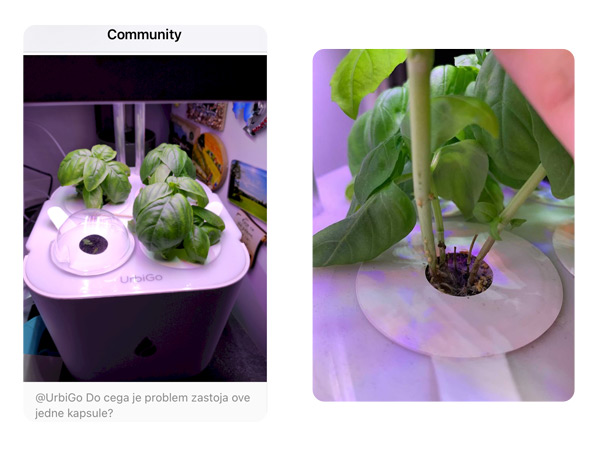 If the seeds in the capsules do not germinate, we will be happy to replace the existing set of capsules with a new one. Of course, completely free of charge! 💚
Although we put high emphasis on the quality of seeds that we get only from selected and certified organic producers, they can lose their germination during transportation, if not stored in specific temperatures.
To sum up
Ok, we know this post was long - but hopefully it wasn't boring! 🤭
🌱 There are many beautifully designed flower pots with light on the market, but UrbiGo is the first connected & smart home device for urban gardening. Created with the goal of adapting it to the climate and conditions of city life and bringing the numerous benefits of greenery closer to modern humans.
Wi-Fi, mobile phone and basic digital literacy are essential if you want to use UrbiGo (as any other smart home device). If you're a technophobe or believe that urban gardening only requires 'a pot, seeds and window', we're probably not a good match.
UrbiGo connects the world of Technology 🤖 and Nature 🌱 in one. Sometimes, it can happen that Nature takes matters into its own hands, but we are here to constantly learn from it (and from you!) to further improve the product.
Together we have the power to create a product that will change the attitude that modern society has towards nature. Truly green, smart home device that proves that Nature should not be just on our desktop wallpapers, but in our lives, everyday! 💚
👀 if you have any questions or concerns, feel free to write us at info@urbigo.me, Instagram or Facebook 💬

Thanks for reading and stay green for us until some next post! :)!